FRIDAY MOVIE & DINNER  9-27-19
JUDY
(Final days of Judy Garland)
GATEWAY THEATRE 
7 PM
************
DINNER AFTER MOVIE
BURGER STOP  (walking distance in Gateway Plaza)
ALL FRIENDS WELCOME
Is Hollywood still in love with the suffering 'gay icon'?
A new biopic sees Renée Zellweger star as Judy Garland, an actor who revolutionised LGBT fandom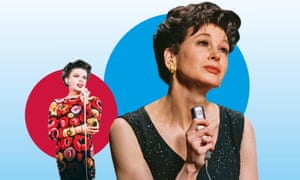 T

here's a touching scene in the new movie Judy (as in Garland), when the legendary trouper, played by Renée Zellweger, meets two gay fans after her London show and invites herself back to theirs for dinner. After a comically disastrous meal, the tone turns melancholy, as Garland laments her unhappy life and her hosts reflect on theirs, as closeted partners in pre-legalisation 1960s Britain. It's a little moment of solidarity that gets to the heart of Garland's gay appeal.
Judy Garland didn't simply tick the boxes for "gay icon", she created those boxes: child stardom, tragic life, big showtunes, drag-friendly stage persona, addictions, comebacks, having sung Over the Rainbow. Not to mention her unfortunate habit of marrying men who turned out to prefer other men (weirdly, her daughter Liza Minnelli did the same). But as that scene in Judy underscores, it was a different era.
Even in her lifetime, Garland's gay following was remarked upon, often in sneering and homophobic ways. "She has the power that homosexuals would like to have, and they attempt to attain it by idolising her," a psychiatrist helpfully explained in a Time magazine article in 1967, which observed how many of Garland's fans were "boys in tight trousers". When a TV interviewer later brought up the article, Garland defended her fans: "I've been misquoted and rather brutally treated by the press but I'll be damned if I like to have my audience mistreated.