FRIDAY & SUNDAY NIGHT MOVIES
We are celebrating the OUT SHINE FILM FESTIVAL with 2 movies. 
,
FRIDAY, OCTOBER, 26, 2018 – MAPPLETHORPE – showing at SAVOR CINEMA
***************************************************************************
SUNDAY, OCTOBER 28, 2018 – BOY ERASED – showing at SAVOR CINEMA (PLUS OPTIONAL CLOSING NIGHT PARTY)
ADVANCE TICKET LINKS BELOW
(BUY NOW- Probably will sell out)

MAPPLETHORPE
FRIDAY OCTOBER 26TH 2018, 7:00 PM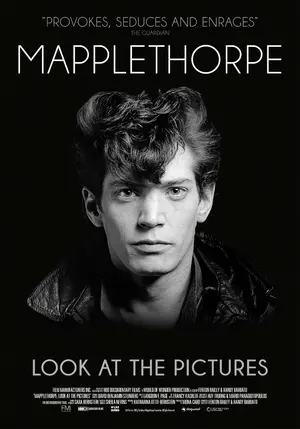 Runtime

: 102 minutes
Language

: English
Director

: Ondi Timoner
Country

: USA, 2018
Genre

: Drama, Gay, Historical Fiction
Perhaps the most controversial photographer in American history, Robert Mapplethorpe's work celebrated a range of subjects, from flowers to S&M. He electrified the contemporary art world and immortalized a generation ravaged by

AIDS.

From the early '70s until his untimely death, the film explores the intersection of his art and his sexuality and his struggle for mainstream recognition, all in the face of the emerging

AIDS crisis.

Featuring Matt Smith (Doctor Who, The Crown) the biopic offers a nuanced portrait of an artist at the height of his craft and of the self-destructive impulses that threaten to undermine it all.
*************************************************
.
SUNDAY MOVIE  OCT. 28,
6 PM at SAVOR CINEMA
STARS NICOLE KIDMAN, RUSSELL CROWE & LUCAS HEDGES
.
BOY ERASED is based on True Story
The only child of a car salesman and soon-to-be Baptist pastor, Conley was "terrified and conflicted about his sexuality".[2] At nineteen, while in college, he was outed as gay to his parents and given the choice of being disowned or being subjected to gay conversion therapy that promised to cure his homosexuality.[2] The timing came as his father was about to be ordained as a Baptist minister.[3] Conley was enrolled in a Love in Action ex-gay program, and recounts the harm he was subjected to there in the name of curing his sexuality.[4]
.
The Bay Area Reporter noted, "Conley's memoir oscillates between his revelations, good and bad, during time spent in the fold of the ex-gay ministry during his two-week stint in the 'Source' trial program, and his personal and familial history [that led up to] induction in the program."[5] He recounts the months of counseling he underwent followed by a two-week intensive intervention.[6] He also includes other participants' accounts and a "Timeline of the Ex-Gay Movement".
CLOSING NIGHT FILM | BOY ERASED
Sunday October 28th 6:00 pm
Savor Cinema
503 SE 6th St. Fort Lauderdale, FL 33301
.
CLOSING NIGHT PARTY & AWARDS
Sunday October 28th 8:00 pm
RIVA Fort Lauderdale
1180 N Federal Hwy, Fort Lauderdale, FL 33304