" I HATE Blacks, Jews, Mexicans, Irish, Italian, and Chinese people …God bless White America!"
—quoting David Duke of the KKK
.
TO UNDERSTAND HOW A BLACK COP IN THE 1970's INFILTRATED THE KKK,  SEE THIS MOVIE – A TRUE COMEDY"
.
FRIDAY MOVIE:  BLACKKKLANS  (A Comedy)
DIRECTED BY:  SPIKE LEE
SHOWING:  GATEWAY THEATRE (US 1 & Sunrise)
STARTS:  6:45 PM
.
94% Critic Approval
.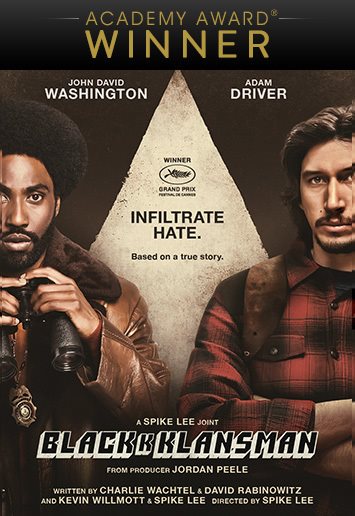 From visionary filmmaker Spike Lee comes the incredible true story of an American hero. It's the early 1970s, and Ron Stallworth (John David Washington) is the first African-American detective to serve in the Colorado Springs Police Department. Determined to make a name for himself, Stallworth brave

ly sets out on a dangerous mission: infiltrate and expose the Ku Klux Klan.
.
The young detective soon recruits a more seasoned colleague, Flip Zimmerman (Adam Driver), into the undercover investigation of a lifetime. Together, they team up to take down the extremist hate group as the organization aims to sanitize its violent rhetoric to appeal to the mainstream. Produced by the team behind the Academy-Award® winning Get Out.
.
CONTACT JOHN AT JRAMOS4000@AOL.COM WITH MOVIE SUGGESTIONS